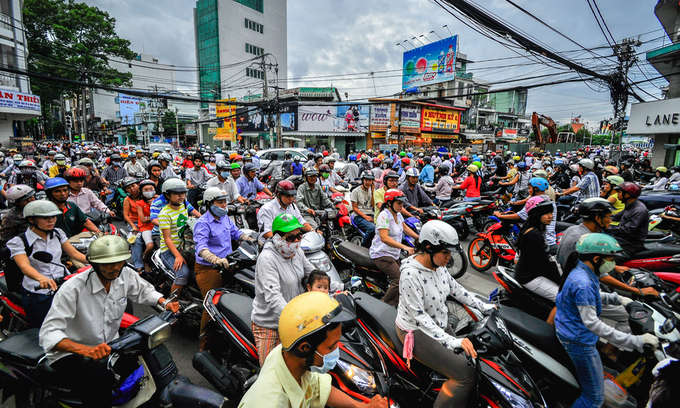 Motorbikes still the vehicle of choice in Vietnam
2020-01-22
VnExpress By Dat Nguyen – Sales rose for the fourth straight year as 3.39 million new motorbikes were bought in Vietnam last year.

The number marked an increase of 3.5 percent over the previous year, and a 25 percent increase from 2014, according to the Vietnam Association of Motorcycle Manufacturers (VAMM).

It also means that 282,174 motorbikes were sold each month last year, mainly by five members of VAMM: Honda Vietnam, Piaggio Vietnam, Vietnam Suzuki Corporation, SYM Vietnam and Yamaha Motor Vietnam.

Honda remains the most popular motorbike brand in Vietnam, accounting for 75.9 percent of the market share, up 4.2 percentage points from 2017, the company said in a statement.

Motorbikes in Vietnam range from affordable to high-end and luxury products. They include manual models, scooters and sports motorcycles with prices from tens of millions of dong (VND23,195= $1) to more than a billion ($43,064).

The motorbike market in Vietnam is still growing despite previous forecasts that it had reached a saturation point. High taxes and infrastructure limitations are constraints for cars and there is still a demand for this type of transport, VAMM told VnExpress International earlier via email.

"Although the market will not see remarkable changes in the future, it will continue to grow steadily with 3-3.5 million motorbikes sold each year," VAMM said.

Vietnam tops the world in the number of people using motorbikes for daily transportation, according to a study done by Germany-based Dalia Research in 2017.

It said 79 percent of Vietnamese use motorbikes for commuting, while the global average is just 10 percent globally.

By the end of 2016, there were 45 million registered motorbikes in Vietnam, a country of over 92 million people, according to the Ministry of Transport.
Back