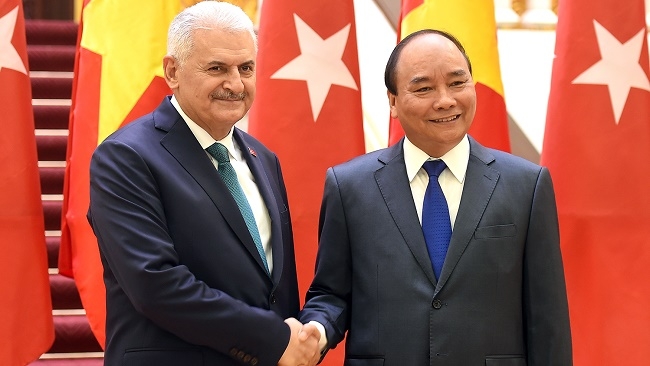 Promoting cooperation between Vietnam and Turkey
2017-08-23
Turkey is located between Asia and Europe, with the majority of its territory lying in Asia. Endowed with rich natural resources, Turkey has a diverse economy, including mining, garments, machinery manufacturing, consumer electronics, shipbuilding, construction and agriculture. Turkey's tourism industry is also thriving, welcoming over 30 million visitors each year.

Thanks to strong reforms towards economic liberalisation, Turkey has become the world's 18th largest economy and the fastest-growing economy in the Organisation for Economic Cooperation and Development over the past decade.

The cooperation between Vietnam and Turkey has been growing in the fields of politics, trade and investment, education and culture. The two countries first established diplomatic relations in 1978 and in February 1997, Turkey opened its embassy in Hanoi. In October 1999, Vietnam opened its Trade Representative Office in Istanbul and Vietnam's Consulate General in Istanbul was upgraded to an Embassy and relocated to the capital of Ankara in October 2003.

The fine relationship between Vietnam and Turkey has been marked by the mutual visits of the two countries' leaders. Vietnam and Turkey has signed many cooperative agreements covering a wide range of areas, including trade and investment, culture, science, education, the environment, crime prevention, aviation, marine transport and so on.
Turkey is one of Vietnam's leading trading partners in the Middle East and in 2016 the two-way trade value reached US$1.51 billion, in which Vietnam exported goods worth US$1.36 billion. Turkey is the gateway for Vietnam's exports, such as rice, rubber, tea, garments, footwear, electronics and handicrafts, to enter the Middle Eastern and European Union markets. Meanwhile Turkey can provide Vietnam with steel billets, building materials, chemicals and auto parts.

In June 2016, Turkey's national flag carrier Turkish Airlines opened the Istanbul-Hanoi route (transfer at Ho Chi Minh City) with seven flights a week. Turkey is currently the 26th largest foreign investor in Vietnam, with US$704 million invested in 15 projects.

Prime Minister Binali Yildirim's visit is an important occasion for the two countries' leaders to discuss the measures needed to further promote and deepen the bilateral relationship in terms of trade and investment, science and technology, transport, education and many other areas. The visit also helps to bring the multi-faceted cooperation between the two countries to a new chapter, contributing to peace, stability, cooperation and development in the region and the world at large.
Back